REAL ENGLISH SETTERS
WORLD

Be A Part OF IT
---
If you are a part of a real English Setter world then you enjoy many benefits that only an English Setter can provide. Such as the beauty of an English Setter as he or she streaks down a frost covered field edge early on a late fall morning as only an English Setter can. Or the peace of a beautiful English Setter lying at your feet as you sit by the fireplace.
Or,a gorgeous English Setter locked up in a classic point on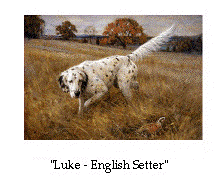 Mr.Quail
OR
Mr.Grouse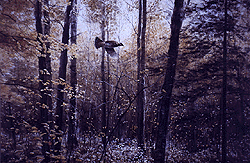 English Setter Breeders in NC, SC, and VA:
Verle Farrow

(804)738-6813

1550 Jefferson St.

#218

Boydton, Va.

23917-0218

Cliff Monroe

(704)434-5402(home)

After Dark

OR

(704)-434-2308 (work)

email:

monroe@shelby.net

Shelby, NC

Rusty Wilson

(803)453-5355(home)

Kennels

(803)453-5757

Rr.1

Mayesville,SC

29104-9801

Neil and Clint Lessard

(757) 678-0966

Stockley Kennels

P.O.Box 298

Eastville, Virginia

email:

stockleykennels@esva.net

http://stockleykennels.esva.net/

Glenn Allen

Latta,SC
English Setter Trainers in NC, SC, and VA:
R H Kuser

(804)738-6887

3329 Redlawn Rd

Boydton,VA

23917-3813

Mack Hilliard

(910)652-5605

2202 Derby Rd.

Ellerbe, NC

28338-8456
"Outside of a English Setter, books are a man's best friend; inside of a English Setter, it's too dark to read."
Groucho Marx(modified slightly)
---
---
Real English Setters
G.W. Hipps
3688 Caldwell Road
Newton, NC
28658-9677
(704)465-6572
Click on the map to browse
OF ALL THE PEOPLE THAT COULD HAVE BEEN OUT HUNTING
WERE HERE.